RockBirds SL89 Portable Soft Silicone Travel bottles Set, FDA Certificated, TSA Approved 89ml 3 Pack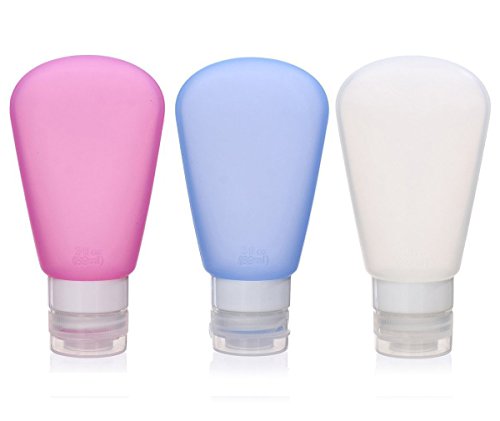 At RockBirds, we devote ourselves to offering the best possible shopping experience for customers. We're excited to bring you a wide selection of products with new styles, colors and functions. The timeless design and long-lasting quality of RockBirds make everyday life more enjoyable.
RockBirds Silicone Travel Bottle Set, this squeezable silicone tube set is a multi-purpose refillable liquid container that is absolutely a must-have for travelers, A perfect companion when you are on the go.
Function:
1. Environmentally Friendly, BPA free
2. FDA Approved 100% food grade silicone
3. No stains, taste, or smells
4. TSA approved – travel size bottles safe for carry-on and airline travel
5. Light weight, easy to carry
6. Refillable, Reusable
7. Soft and Flexible, easy to squeeze
8. Unbreakable leak proof
9. Organize, Label, And Color Code
10. Leak-Proof Bottle Neck With Spill-Proof And Anti-Drip Flip Cap
11. Pack with zippered clear bag, easy to store and carry with this special design
12. perfect size to carry shampoo, condition, gel or other toiletries
13.Large opening allows you to easily refill your bottle
14.The translucent colored body cylinder makes it easier to segregate and identify contents from liquid, gel, to cream.
If for any reason you are unhappy with any product by RockBirds, please do not hesitate to contact us. We take full ownership and responsibility for the quality of our products and will do our very best to solve your problem effectively and efficiently!
Safety First: FDA certified; 100% BPA free food grade silicone, safe for liquids like sauce, salad dressing or even baby food
Innovative design: Wide mouth for easy refilling with small mouth for user friendly controlled flow
Easy to Distinguish: three different colors help you differentiate and remember what you put in where
Compact and Easy to Carry: TSA airline carry-on approved being packed in a zippered clear bag, perfect for containing shampoo, conditioner, body wash, lotion and more
Perfect for business travel, vacation, camping, football games, concerts, picnics, beach activities and more
---
Click Below For Full Details
$8.99
$16.99
---